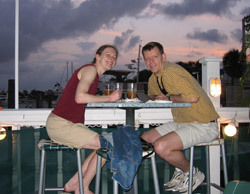 Schedule of Events
All guests are invited to all activities unless noted.
Please see the Interactive Map for location info.
During the wedding week-end, please call our Wedding
News Line at 617-880-NEWS to hear a recording with any
last-minute schedule changes, or rain plan decisions.
Friday, August 11, 2006:
10:00am
Visit Billings Farm, a working Woodstock dairy farm, with the bride and groom! Meet in Inn lobby at 9:45. ($6/person)
1:00pm -
3:00pm
Early afternoon tea. The bride and groom will greet any arriving guests. Come say hello, and grab a snack! Tea will be outside, weather permitting. Ask about location at front desk.
4:00pm
Ceremony rehearsal. (Bride, groom, families, and wedding party only.)
6:00pm
Rehearsal dinner: Join us for a BBQ! All guests are welcome. At the Woodstock Inn.
9:00pm
The party will adjourn to Richardson's Tavern, located on the ground floor of the Woodstock Inn. If you arrive Friday evening, come by to say hello!
Saturday, August 12, 2006:
10:00am
Join the bride and groom for a short hike to the Pogue (a pond) in the Marsh-Billings-Rockefeller National Park. This hike is great for any fitness level. We plan to return no later than 12:00 noon. (Total elevation: 500 feet) (In the event of rain, Simon Pearce Glass and Pottery.) Meet in the Woodstock Inn lobby at 9:45am, or meet us at the Billings Farm parking lot at 10:00am.
12:00pm
Bride and bridal party depart to get ready for the main event.
4:00pm
Wedding ceremony, Knox Meadow. The meadow is 1.8 miles south of the main inn, near the Woodstock Inn Health and Fitness Center. There is plenty of parking at the site. (In case of rain: Unitarian Church, 7 Church Street in Woodstock.)
5:00pm
Cocktail hour, Woodstock Country Club. Roughly 1 mile from the ceremony site. You may drive or take the Inn shuttle
6:00pm
Reception, Woodstock Country Club. Bring your dancing shoes!
Sunday, August 13, 2006:
9:30am -
11:30pm
Farewell breakfast. At the Woodstock Inn.