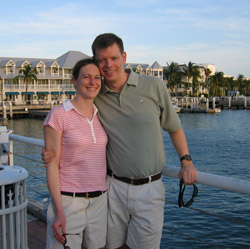 About Us
Do you really want to know?
Rick and Jessica met at Blodgett Pool while swimming with the Cambridge Masters Swim Club. After Jess turned Rick down initially, they became a couple in July 2002, more than a year after they met.
Rick proposed to Jessica on the Long Wharf Pier looking out at Boston Harbor at sunset in October 2005. The event was not a complete surprise – Jessica's father had called to congratulate her several hours before – but the story was far more fun to tell, as a result!