The week-end in Woodstock and the two weeks in Hawaii were glorious. We have compiled many pictures for you to enjoy with us! See the Pictures Page.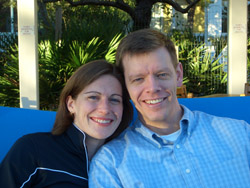 We got Married!
Jessica Stokes and Rick Osterberg were married on Saturday, August 12, 2006 in Woodstock, Vermont. The ceremony took place in Knox Meadow (on the Woodstock Inn property) with the reception taking place at the Woodstock Inn Country Club facility.
Woodstock Vermont is a beautiful place at any time of year. After looking at dozens of locations around New England, we fell in love with the charming New England town of Woodstock. There's plenty to do! Climb Mount Tom, or visit Billings Farm (a real working farm), or watch glassmaking at Simon Pearce, or see the traditional covered bridge just off the Woodstock Green.
We have invited our closest family and friends to spend the week-end celebrating with us. We're glad you could join us in August!