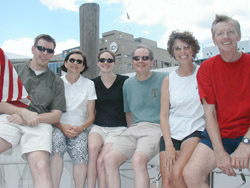 People in the Wedding
Jessica N. Stokes: Bride
The bride was born in Atlanta, Georgia, and attended the Westminster Schools (high school). She graduated from Williams College in 1999 with honors in history and three NCAA Division III national titles in swimming. The following year, she taught at the American Community School in Abu Dhabi, United Arab Emirates. Upon her return, she moved to Boston, where she has been "pahking her cah" and rooting for the Red Sox ever since! She will graduate in May from Boston College Law School (J.D.) and the Boston College Lynch School of Education (M.A. in Higher Education) and will begin work as a clerk for the Honorable Mel Greenberg of the Appeals Court of Massachusetts in September. She is an active member of the Cambridge Masters Swim Club, where she met Rick. (In Boston, her name is pronounced "Jessi-ker.")
Elizabeth S. Stokes (Zibby): Maid of Honor
Sister of the bride and Maid of Honor, Zibby has the distinction of knowing Jessica the longest. Zibby is an avid fan of dancing and desserts – consider yourselves warned! Also a Williams grad, she is an Assistant Media Planner with MPG Arnold in their Boston office. Her boyfriend, Ben Doob, Williams '02, will also join us for the weekend. Zibby calls the bride "B." (She could not say "Big Sis.")
Dana L. Fleming: Bridesmaid
Dana and Jessica are classmates at Boston College Law School and the Boston College Lynch School of Education. Dana was born in Secaucus, NJ, and is a Gemini and a natural blond. She and her husband, Swope, live in Boston. In May, Dana will graduate from Boston College with a J.D. and an Ed.D in Education Administration. This fall, she will join the law firm Nelson, Kinder, Mosseau and Saturley in their Manchester, New Hampshire office.
Erin K. Gately: Bridesmaid
Erin and Jessica met as freshman roommates at Williams College and ended their college tenure as co-captains of the Williams Women's Swim and Dive Team. They continue to corrupt one another to this day. Erin is married to Matt Gifford, and they currently reside in Boston. In May 2006 Erin will graduate from the Massachusetts General Hospital Institute of Health Professions as a Nurse Practitioner (NP).
Jennifer Nichols: Bridesmaid
Jen and Jessica are also classmates at Boston College Law School, where they served as Westlaw student reps for two years. No one can sell you on online legal research like Jen! At the ripe old age of 24, Jen gets the honor of being the youngest member of the bridal party. After graduation, she will move to Grand Rapids, Michigan, where she will join the law firm of Warner, Norcross & Judd in the fall.
Richard B. Osterberg: Groom
Rick was born in Newton, Massachusetts, and swam his way through the Newton schools and into Harvard. At Harvard, he swam for several years before a shoulder injury sidelined him to take splits, and into the timing booth. After graduating with honors in computer science, he took a job with Harvard managing the in-dorm computer support for students. He still works for Harvard as a member of the web applications team, providing database development skills. He is active with Cambridge Masters Swim Club, where he met Jessica, and spends many week-ends at the pool in the timing booth providing operational support for swim meets.
Erich Osterberg: Co-Best Man
Erich and Josh are Rick's brothers. Erich attended Middlebury College, where he was a Division III national qualifier in swimming. While in college, he spent a year abroad, spending time studying in New Zealand and Australia. After graduating, he returned to New Zealand on a Fullbright Scholarship. Erich is in a PhD program at the University of Maine in Orono studying paleoclimateology ("old weather"). He spends time climbing mountains and drilling ice cores for analysis. His girlfriend, Laura Greer, will graduate from Albany Medical College this spring.
Joshua Osterberg: Co-Best Man
Josh and Erich are Rick's brothers. Josh attended the College of William & Mary, where he was a standout swimmer. While in college, he became one of few undergraduates to ever dive in the Woods Hole submarine Alvin to a depth of 10,000 feet. Josh is in a PhD program at the Duke University Marine Lab in Beaufort, North Carolina, studying the ecology of deep-sea hydrothermal vents, where he met his girlfriend, Jocelyn Romano. Josh spends time at the bottom of the ocean in very, very small submarines.
Scott Dryden-Peterson: Groomsman
Scott and Rick were roommates and teammates in college at Harvard. Scott and his wife Sarah are slowly, but surely, saving the world. Scott grew up in Juneau, Alaska, and emigrated to Cambridge for college. After graduating, he spent a year working in the rainforests of Indonesian Borneo studying oranguatans, gibbons, and sustainable forestry. Having graduated Harvard Medical School, Scott is currently a Resident at Brigham & Women's Hospital in Boston. His wife, Sarah, is currently a PhD candidate at the Harvard Education School. They are currently resident tutors at Harvard in Pforzheimer House.
Jeff Marks: Groomsman
Jeff and Rick were roommates and teammates in College, and shared much late-night pizza and Coca-Cola, and many yards in the distance lane. Jeff hails from Chico, California, and you will hear his college friends call him "Chico". After narrowly escaping CS 50, Jeff graduated with a degree in Economics, and worked in banking in New York, San Francisco, and London. For the past three years, he has been studying law at the Hastings School in San Francisco, and will graduate this spring.
Dana Piasecki: Groomsman
Dana was also a roommate and teammate in college. Dana did not share as much late-night pizza, because he was training for a spot on the USA Kayak National Team. While attending Vanderbilt Medical School, Dana and twin brother Justin narrowly missed a spot on the USA Kayak Olympic Team. Dana is currently a Resident at the Hospital for Special Surgery in New York City. Dana and his wife Melanie recently welcomed Luke Charles Piasecki into their lives.
Esther and James Stokes: Parents of the Bride
Esther and Jim are Jessica's proud parents. They have welcomed Rick into their homes and into their lives with open arms. Esther runs Esther Stokes Landscape Design, and Jim is President of the Georgia Conservancy. They live in Atlanta, Georgia.
Linda and Richard Osterberg: Parents of the Groom
The proud parents of Rick, their oldest son, Linda and Dick have likewise welcomed Jessica into their family with open arms. Linda works for F.L. Putnam Securities Company, and Dick is an attorney with Weston, Patrick, Willard & Redding in Boston. They live in Newton, Massachusetts.